Lawrence C. Connolly's books include the novels Veins (2008) and Vipers (2010), which together form the first two books of the Veins Cycle. Vortex, the third book in the series, is due in 2013. His collections, which include Visions (2009), This Way to Egress (2010), and Voices (2011), collect all of his stories from Amazing Stories, Cemetery Dance, The Magazine of Fantasy & Science Fiction, Twilight Zone, and Year's Best Horror. He teaches writing at Sewickley Academy and serves twice a year as one of the residency writers at Seton Hill University's graduate program in Writing Popular Fiction. Voices, his most recent book, was nominated for the 2011 Bram Stoker Award, for Superior Achievement in a Fiction Collection.
~~~~~~~~~
BKE: Before you were a published writer, was there a single book that left such an impression you said, "Yes, that's how I want to write."?
LC: Arthur C. Clarke's Childhood's End. That book pretty much did it, from its cliffhanging chapters to its deft fusion of sf and horror. After finishing it, I tracked down everything Clarke had written, and a few years later I was selling stories.
I pay a kind of homage to Clarke's influence in my story "Beneath Between" (Voices), in which a writer discovers a strange edition of Against the Fall of Night (another Clarke book) that briefly opens the doors to a parallel world.
~~~~~~~~~
BKE: Music and performing is another passion of yours, but not a completely separate one; you've written soundtracks for some of your work, which as a long-time guitarist myself, strikes me as a wonderful complement to artistic expression. In researching for this interview I listened to samples of some of the tracks and found many to be particularly moving. Your website says your music is a mix of trance, rock, and ambient compositions. Now, I've always wanted to learn more classical guitar but have never really sat my lazy hide down and actually done it. Is there a particular form of musical genre or perhaps an instrument to which you'd like to become more proficient?
LC: Most of what I've done has been singer-songwriter stuff, occasionally backed up by bass and drums. I've also played lead guitar and bass in a number of bands, most notably with my brother John, who's one of the best songwriters I know.
Veins: The Soundtrack was an attempt to explore some new ground. It features an electric guitar played with a device called an energy bow (e-bow), which enabled me to create long, sustained notes – the sort of thing you might get on a bowed instrument, like a violin or a cello.
The lead track from the CD is a tune called "Axle Rising", and you might think the riff that kicks in halfway through is being played on a flute. But then you realize, "Hey, this guy's not inhaling. It's all one sustained sound!" That's an e-bowed guitar.
You can hear some of the tracks from the CD in their entirety on the book trailers that Fantasist has put out for Voices, Vipers, and Visions. (All three are linked under the "Media" tab at LawrenceCConnolly.com). Note the retro Theremin sound that cuts in near the end of the Voices trailer. That's a guitar!
~~~~~~~~~
BKE: Veins, Visions, Vipers, Voices and now Vortex. I'm a sucker for deciphering patterns. Is there some clandestine meaning behind all these Vs?
LC: It's all about branding, isn't it? All of my books with Fantasist are one-word V titles, which makes for good product recognition (not to mention a terrific display when the books are arranged together).
Also, since my deal with Fantasist is for five books, there's been talk of bringing out a boxed set to coincide with the release of Vortex. And what goes on the box? A giant V for the number five! How cool is that?
~~~~~~~~~~
BKE: When writing a novel, is there anything you nail down before you type the very first word?
LC: I try to nail everything down. Not that I succeed, but I try.
Some writers say they don't like to outline. They say, "I want to be surprised." Well, so do I. Writing is all about surprises, but I've discovered that the unexpected can happen at every step in the process, whether it be brainstorming, outlining, drafting, or revising. But there's one kind of surprise I can live without. It's the kind that can come halfway through a 500 page manuscript when the central premise proves to have an unreconcilable flaw. Planning prevents that.
~~~~~~~~~
BKE:

What are the challenges of writing a series? The Veins Cycle is going strong, with multiple sequels. Do you find that each book becomes harder or easier to write? And further, as the story progresses, do feel the need to recap previous books, or let the work stand alone?
LC: I'm trying a couple of things with these books, and so far they all seem to be working. The central action in the series takes place over a single 24-hour period, starting about 10:00 on a Sunday night, concluding around the same time the following Monday. There are flashbacks and time reversals along the way, of course. There's no way to present complex characters without those elements. No one lives only in the present. Existence is a constant blend of memory, moment, and expectation. And so it is with the characters in the Veins Cycle.
As much as possible, I'm trying to make each book stand alone. If a reader needs to know something, I try to convey it dramatically, and so far everything seems to be working.
BKE: What projects are you looking forward to in the future?
LC: I'd like to find time for a pet project: a fusion of music, story, and performance art that I write about occasionally at my blog The 21st Century Scop.
It seems to me that the art of storytelling is moving in the same direction that music found itself in a while back, when recording artists discovered it was no longer enough to produce content in the studio. They realized that live performance needed to become the artist's primary revenue stream, supported by published content.
I think it's time to explore the full potential of story as performance art. I've been playing with those possibilities for a while now. I'd like to do much more.
Fantasist has included a couple of my 21st-Century Scop performances on Veins: The Soundtrack, and there are two more available for free at my website (again, under the "Media" tab).
If nothing else, that kind of performance is a fun way to fuse my interest in music and fiction. I'd like to do more. All I need is time.
I'm finishing the third book now. It's due out in 2013.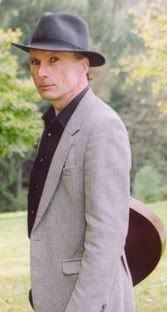 BKE: Thanks you so much for the interview!

LC: You're welcome.
Be sure to drop by Lawrence's website for purchasing information, as well as updates to his various projects.
Current Mood:

artistic

Current Music:

Veins: The Soundtrack